DRJ Designs is now owned by CHVentures, an experienced website design, hosting and suppoort company with over 30 years of software experience. Dave is still around as a Manager, but now you have extra resources to help!
Featured Website
Click to view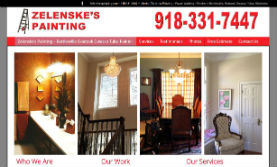 Looking for a professional painter in the Bartlesville, Skiatook, Owasso, Tulsa, and surrounding areas in Oklahoma? Check out my friend, Jason Zelenske at Zelenske's Painting. He will do you RIGHT!


Why choose our Company? There's plenty of web designers
The Cost

In this economy every penny counts. Our estimate will be the lowest price possible to ensure you get the most bang for your buck. Check out our pricing.



The Time

We understand how valuable your time is to you. We typically average 3-4 weeks to design and implement your website.



The Support

Support work is typically done in a 24 hour turn-around time or less to ensure that your website is updated in a timely fashion.
Contact us today for a Free Quote
What our Clients are saying
Without David's expertise, dedication and support, TheAntiqueTractorShow.com would not be the globally recognized website that it is – Recognized via Proclamation by the Governor of the State of Missouri, and viewed in over 25-Countries…all in less than a year's time!
Michael Hinton, TheAntiqueTractorShow.com ....more